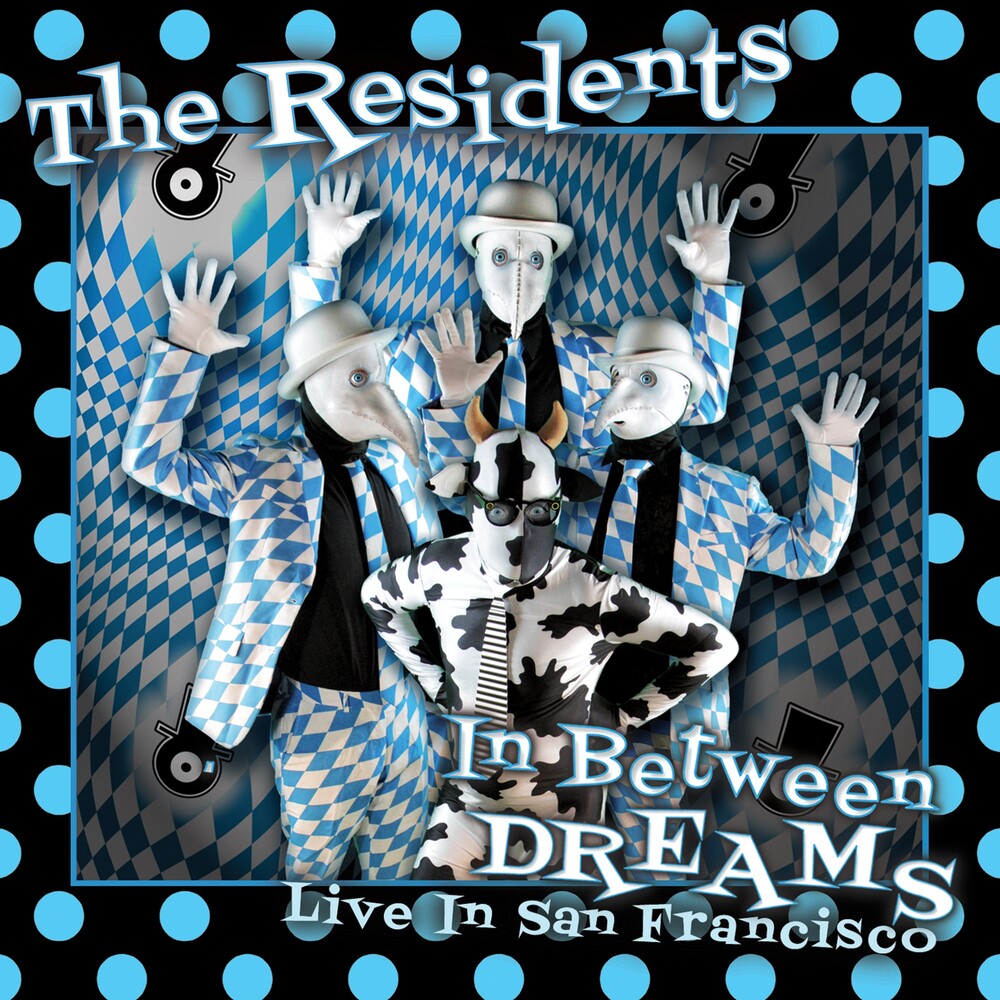 Details

Format: CD
Label: CYPT
Rel. Date: 12/11/2020
UPC:

5013929182387
Available Formats and Editions
1. Jelly Jack The Boneless Boy
2. Mickey The Mumbling Midget
3. Baby Sister
4. The Black Behind
5. Monkey Man
6. It's A Man's Man's Man's World
7. Rushing Like A Banshee
8. Train Vs Elephant
9. From The Plains To Mexico
10. Africa Tree
11. Hungry Hound
12. Tell Me
13. Die! Die! Die!
14. Teddy Bear
15. Tourniquet Of Roses
16. Jelly Jack The Boneless Boy
17. Mickey The Mumbling Midget
18. Baby Sister
19. The Black Behind
20. Monkey Man
21. It's A Man's Man's Man's World
22. Rushing Like A Banshee
23. Train Vs Elephant
24. From The Plains To Mexico
25. Hungry Hound
26. Tell Me
27. Die! Die! Die!
28. Africa Tree
29. Teddy Bear
30. Tourniquet Of Roses
31. The Cowboy Waltz
32. Six More Miles To The Graveyard
More Info:
Captured in San Francisco during their 2018 world tour, The Residents - Tyrone, Eekie, Erkie and Cha-Cha - perform a suite of dream-themed songs, alongside offerings from their latest studio album, 'Metal, Meat and Bone'. Including classics such as 'Man's World', 'Jelly Jack', 'The Black Behind' and 'Tourniquet Of Roses' alongside fan favourites in 'Monkey Man', 'Mickey The Mumbling Midget' and suchlike, this CD and DVD set captures the sight and sound of the new-look four-piece group, lavishly attired in tribute to The Mysterious N Senada, their Bavarian mentor, following the stripped back Randy, Chuck and Bob era. Packaged in a sumptuous, all card presentation, "In Between Dreams - Live In San Francisco" is a perfect all-in-one tour souvenir, beginner's guide, home cinema extravaganza and Christmas gift for the elderly and infirm. Meanwhile, The Residents will present their next show, Dog Stab, worldwide in 2021, global circumstances allowing. Check www. Residents. com for the latest.