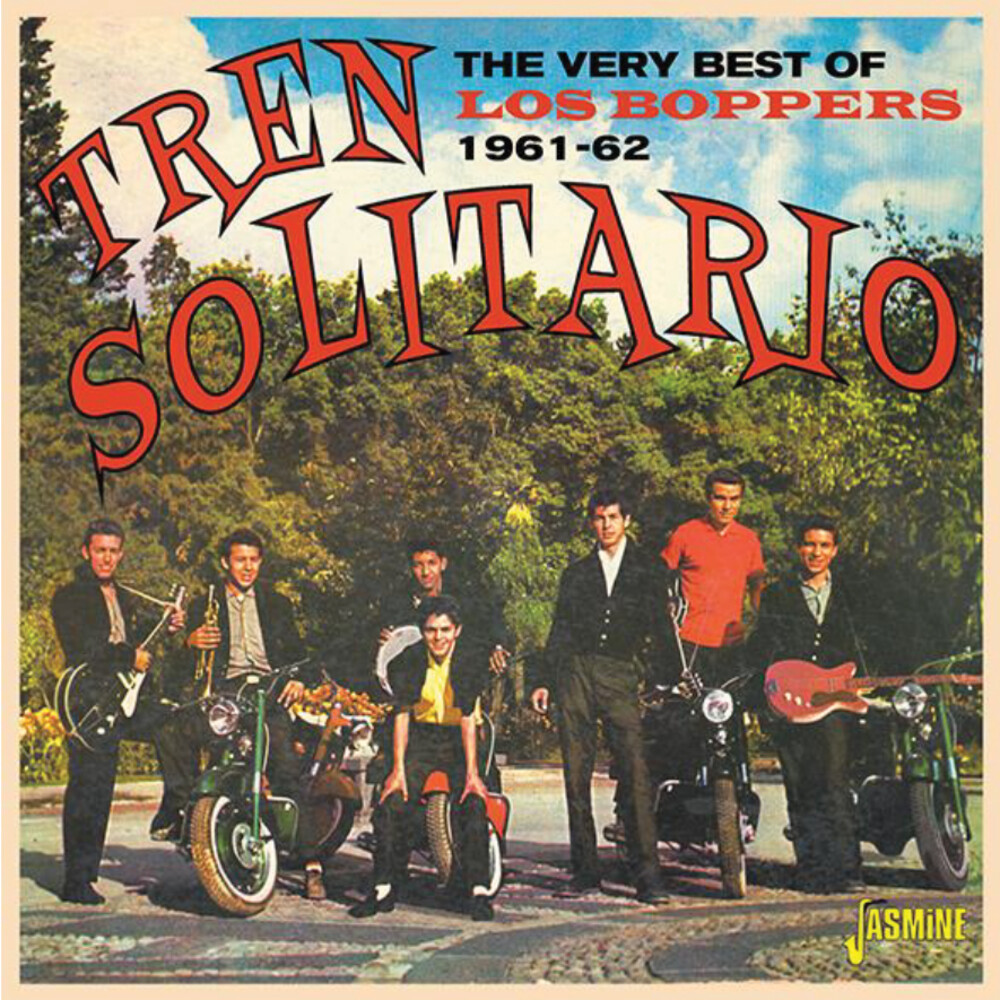 Details

Format: CD
Label: JASMINE RECORDS
Rel. Date: 06/19/2020
UPC:

604988108828
Tren Solitario: Very Best Of The Los Boppers (Uk)
Artist:
Los Boppers
Format:
CD
New:
In Stock $
12.99
Wish
Available Formats and Editions
1. TREN SOLITARIO (Lonesome Train - version 1)
2. COLINA AZUL (Blueberry Hill)
3. BIKINI AMARILLO (Polkadot Bikini)
4. ALI BABA
5. AMANTE SOÑADOR (Dream Lover - version 1)
6. TE QUIERO COMO SIEMPRE (I Love You In The Same Old Way)
7. PORQUE TE AMO TANTO (Why Do I Love You So)
8. EN LA FIESTA DE HOY (Rip It Up)
9. SOÑANDO (Dreamin') 1
10. TAN SOLO UN BESITO (Kissin' Time) 1
11. TRATANDO DE CONSEGUIRTE (Trying To Get To You) 1
12. DEMASIADO (Too Much) 1
13. SACO SPORT BLANCO (A White Sport Coat - version 1) 1
14. DIFICULTADES (Trouble - version 1) 1
15. NO ME DEJES SOÑAR SOLO (Dream Lover - version 2) 1
16. ROCK DE LOS SANTOS (When The Saints Go Marchin' In) 1
17. MUJER CABEZA DURA (Hard Headed Woman) 1
18. TREN SOLITARIO (Lonesome Train - version 2) 1
19. CANTANDO EL BLUES (Singin' The Blues) 2
20. HERMOSOS OJOS AZULES (Pretty Blue Eyes) 2
21. SACO SPORT (A White Sport Coat - version 2) 2
22. ADIOS TU (Little Miss Stuck-Up) 2
23. VUELVE PRIMAVERA 2
24. CARTAS DE AMOR EN LA ARENA (Love Letters In The Sand) 2
25. EL BAILE DE LA MUNECA (Party Doll) 2
26. PROBLEMAS (Trouble - version 2) 2
27. CORINA, CORINA 2
28. VUELTA Y VUELTA (Round And Round) 2
29. OLVIDAME (You Don't Owe Me A Thing) 3
30. PORQUE SOY REBELDE (Just Because) 3
31. ALE JALE GALE (Hully Gully) 3
32. POBRE TONTIN (Poor Little Fool)
More Info:
Formed in Mexico City in 1960, LOS?BOPPERS?were one of Mexico's most popular indigenous rock & roll groups between 1961-1962. Their forte was Spanish language covers of contemporaneous American rock & roll?hits, and they registered the Mexican hit versions of songs like 'Lonesome Train', 'Blueberry Hill', 'A White Sport Coat' and 'Dream Lover'. Their joint lead singers, Francisco 'Paco' Can~edo and Ricardo 'Elvisito' de la Garza Rami'rez, were their key members, before setting out on successful solo careers in 1963. They recorded three LPs, "Colina Azul", "Rock" and "Sesion de Rock Con Los Boppers", plus a handful of singles. This compilation features virtually all their recordings, including their hits and other well-known numbers. This is all seriously rare, collectors' material, virtually impossible to find elsewhere, and around a third of these sides have never previously appeared on CD.