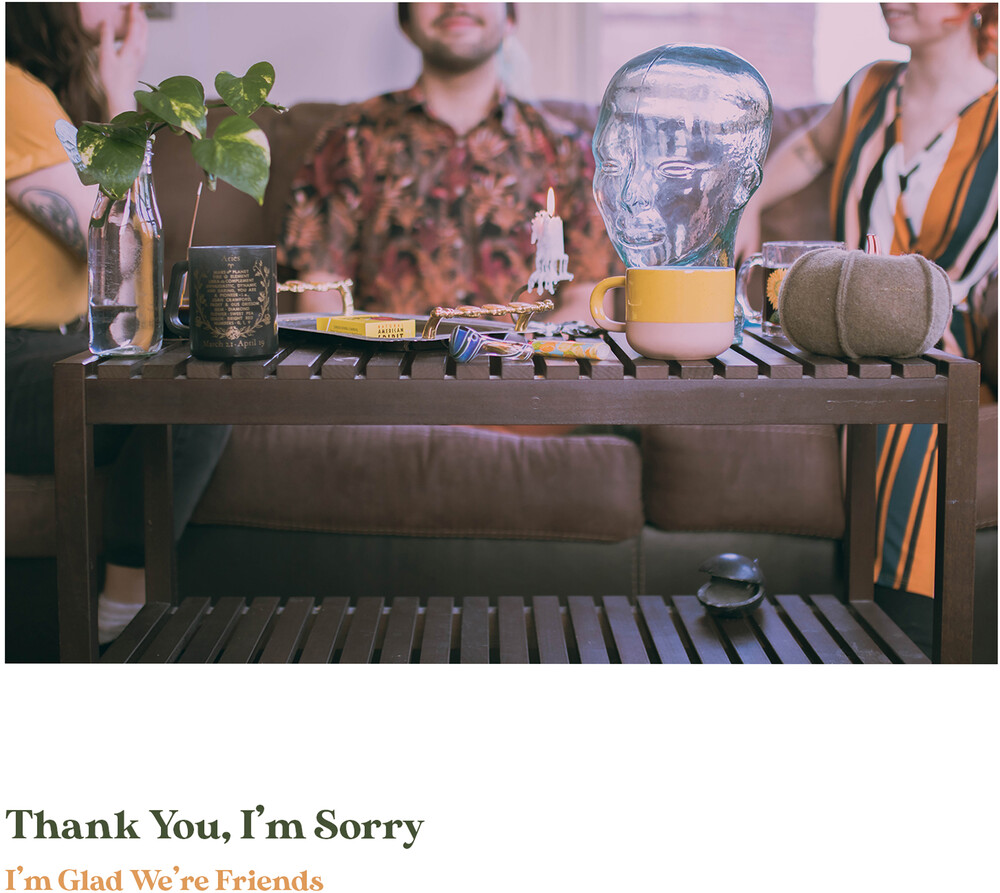 Details

Format: Vinyl
Label: RUN FOR COVER
Rel. Date: 08/21/2020
UPC:

721762893753
I'm Glad We're Friends (Olive In Gold Vinyl)
Artist:
Thank You Im Sorry
Format:
Vinyl
New:
In Stock $
22.98
Wish
Available Formats and Editions
1. Manic Pixie Dream Hurl
2. How Many Slugs Can We Throw Against the Wall Until We Question Our Own Morality
3. Ten Dollar Latte
4. Menthol Flavored Oatmeal
5. Bees?
6. Slow Ghost
7. Follow Unfollow
8. Waves
9. Crocodile Tears 1
10. Two Door Sports Edition Minivan 1
11. Between Hell and Hair School 1
12. Backpack Life
More Info:
Nerves are one hell of a tool. Short bursts of anxiety and fear often lead to songwriting that doubles down on winking through catharsis. It's in the spaces between sudden inspiration and deliberate wit where Minneapolis' Thank You, I'm Sorry resides. Their debut LP, The Malta House, charted a course towards self-acceptance while surrendering to the pull of a music career and a constantly buzzing heart. The charm of that release comes from it's set-up: it's an acoustic record that draws on the confessions of guitarist and frontperson Colleen Dow to generate visceral electricity. Thank You, I'm Sorry is already here with their follow-up, I'm Glad We're Friends. You're welcome. I'm Glad We're Friends plusses up selections from The Malta House and offers plenty of new surprises. Bassist Bethunni Schreiner and drummer Sage Livergood upgrade "Ten Dollar Latte" with a rhythm section that elevates a simple crush into a pop-punk meditation on healthy boundaries. The new additions here point to a bright future, both internally and externally. "Follow Unfollow" draws a line between infectious grooves and spaced-out isolation, even with a reference to how tight-knit and relaxed the recording sessions were. (Close collaborator Abe Anderson was behind the boards.) "Between Hell and Hair School" fights then embraces it's own gravity, combining strings and guitar crunch to appeal against glazed-over indifference. As the second release from this outfit in under a year, I'm Glad We're Friends is as invigorating and confident as making a new connection. Perhaps Thank You, I'm Sorry will connect with you.