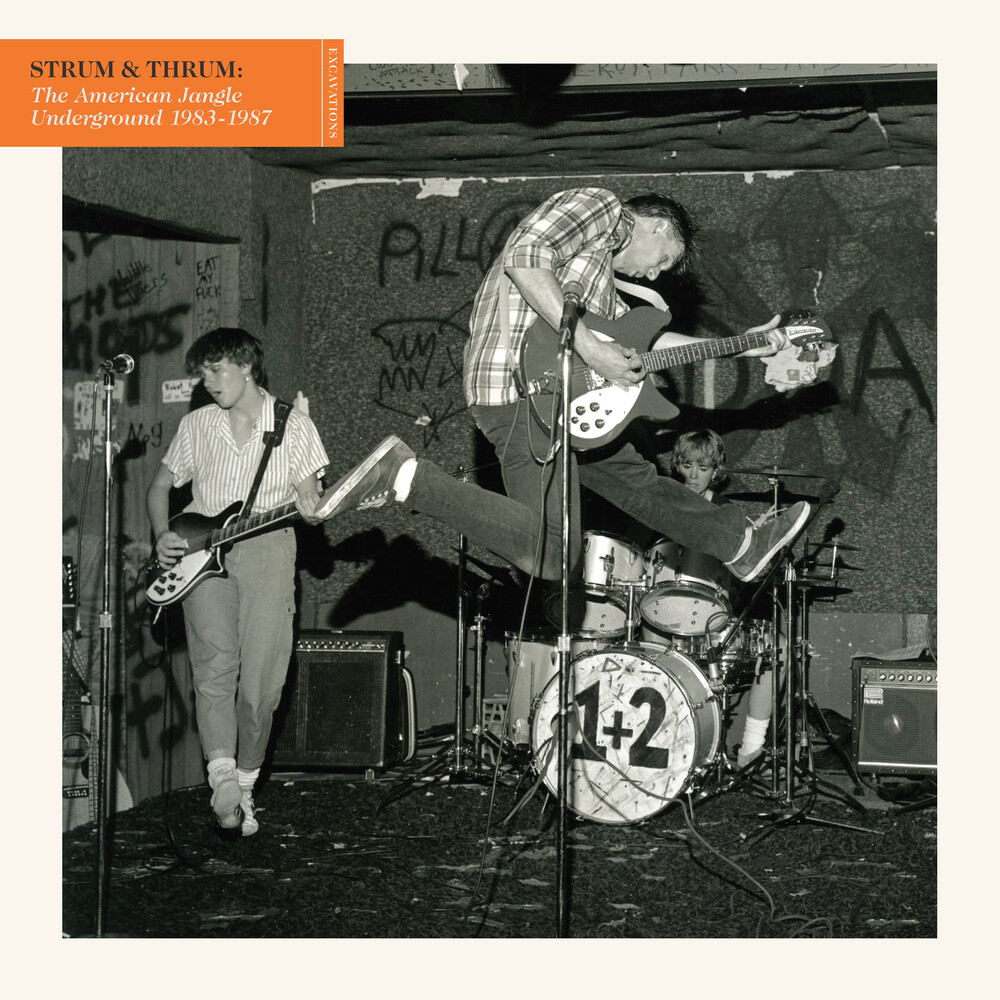 Strum & Thrum: The American Jangle Underground 1983 - 1987 [2LP]
Artist:
Various Artists
Format:
Vinyl
New:
call store to check stock 610-683-5599
Wish
Available Formats and Editions
1. The Reverbs - Trusted Woods
2. Start - Where I Want To Be
3. Cyclones - I'm In Heaven
4. Windbreakers - All That Stuff
5. Primitons - All My Friends
6. Bangtails - Patron Of The Arts
7. The Love In - Late As Usual
8. Sex Clark Five - She Collides With Me
9. Three Hits - 5 O'Clock
10. Crippled Pilgrims - Black And White (Alternate)
11. Vandykes - Breakin My Heart
12. Salem 66 - Seven Steps Down
13. The Outnumbered - I Feel So Sorry Now
14. The Darrows - Is It You
1. Riff Doctors - Say Goodbye
2. The Ferrets - She Was Unkind
3. 28th Day - Pages Turn (Alternate)
4. Great Plains - When Do You Say Hello?
5. Downy Mildew - Purple Parlor
6. The Strand - You And Me
7. The White Sisters - Misery, Me, & You
8. Absolute Grey - Remorse
9. One Plus Two - Promise
10. The Springfields - Sunflower
11. Holiday - Change
12. Pop Art - The Meeting
13. The Reactions - Tomorrow's Time Today
14. A New Personality - Essential Things
More Info:
Strum & Thrum: The American Jangle Underground 1983-1987 is the first volume of Captured Tracks' new venture into compilations – Excavations. Dedicated to compiling forgotten music from the 1970s – 1990s that has a connection to Captured Tracks' sound and aesthetic, this series will bridge the past to our current roster and showcase the kinds of sounds that inspire us.
As an American label, we've often wondered why British, Aussie, and Kiwi indie rock from the '80s has had the most influence on modern acts and the collector's market. Outside of bands like R.E.M., the Rain Parade, the Dream Syndicate, and a few others, most of these bands received little attention from national or international press outlets and markets. The acts on this compila- tion have a true DiY spirit that lead many of these bands to self-record and self-release within tiny local scenes in small cities and college towns across America.
Strum & Thrum aims to shed light on this forgotten era of jangly, melodic rock music that emerged from the ashes of post punk and helped kick start the indie rock boom of the early '90s that continues to this day. Indeed, many artists featured on Strum & Thrum went on to be part of this boom – Archer Prewitt from the Sea & Cake, Jon Ginoli from Pansy Division, Ric Menck from Velvet Crush, Brent Rademaker from Beachwood Sparks, Barbara Manning, and more went on to be in well known bands in the '90s.
Spread across two LPs, Strum & Thrum includes an 80+ page booklet with an extensive oral history of the '80s indie scene, an introduction by Captured Tracks label head Mike Sniper, and tons of archival images and ephemera. Long live the jangle underground!