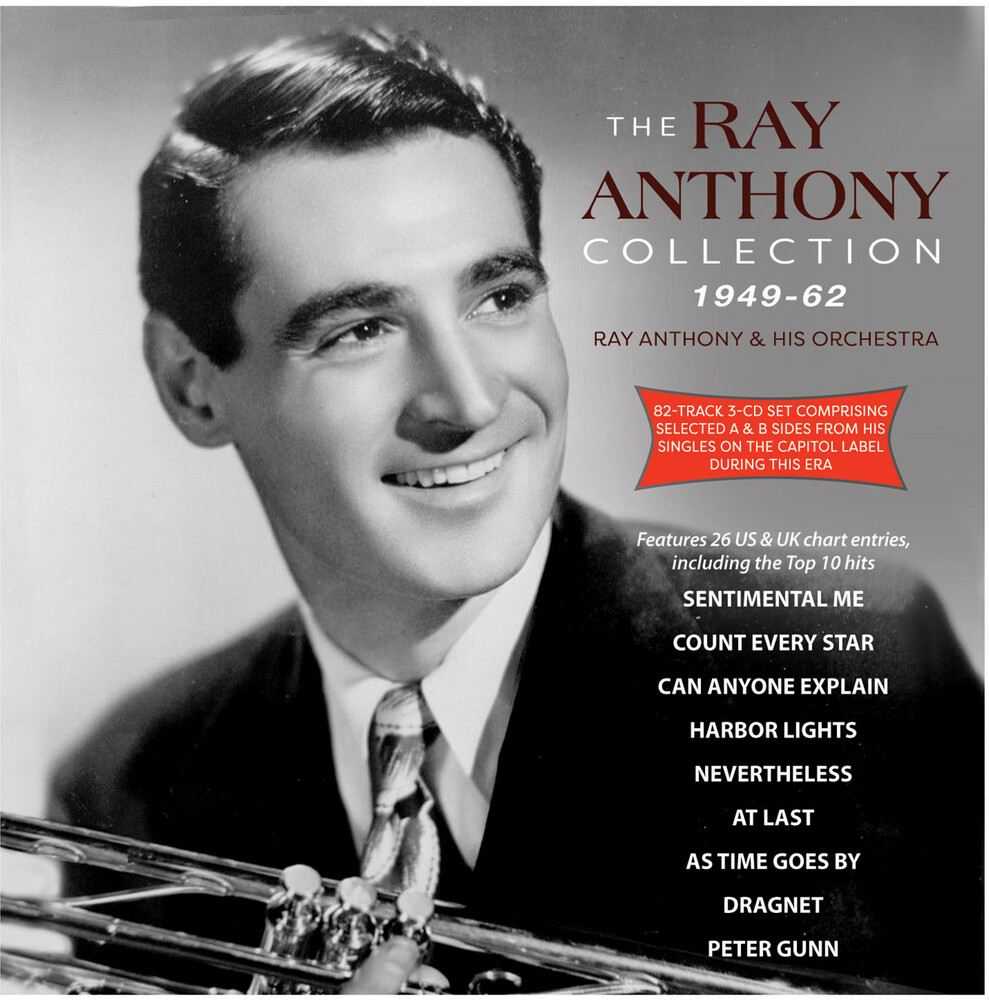 Details

Format: CD
Label: ACBT
Rel. Date: 12/11/2020
UPC:

824046910228
Collection 1949-62
Artist:
Ray Anthony
Format:
CD
New:
In Stock
$19.99
Wish
Available Formats and Editions
1. Darktown Strutter's Ball
2. Slider
3. A Dreamer's Holiday
4. Sitting By the Window
5. Count Every Star
6. Spaghetti Rag
7. Sentimental Me
8. Little Peach from East Orange
9. In the Mood
10. Tenderly
11. Roses
12. Scattered Toys
13. Mama, Teach Me to Do the Charleston
14. Lackawanna Local
15. Young Man with a Horn
16. Stardust
17. Can Anyone Explain?
18. Nevertheless (I'm in Love with You)
19. Harbor Lights
20. Harlem Nocturne
21. Mr Anthony's Boogie
22. Autumn Leaves (Les Feuilles Mortes)
23. The Night Is Young and You're So Beautiful
24. Be My Love
25. Columbia, the Gem of the Ocean
26. Mr Anthony's Blues
27. These Things I Offer You
28. Vilia
29. My Truly, Truly Fair
30. The Fox
31. Deep Night
32. Undecided
33. Brother Fats
34. The Honeydripper
35. At Last
36. Bermuda
37. I Let a Song Go Out of My Heart
38. I Hear a Rhapsody
39. Moonlight Saving Time
40. There Are Such Things
41. You're Driving Me Crazy
42. Slaughter on Tenth Avenue
43. As Time Goes By
44. Scatterbrain
45. Marilyn
46. Idaho
47. Street Scene
48. On the Trail
49. Wild Horses
50. True Blue Lou
51. The Bunny Hop
52. The Hokey Pokey
53. Thunderbird
54. That's My Weakness Now
55. Dragnet
56. Dancing in the Dark
57. Another Dawn, Another Day
58. Sound Off
59. Oh Mein Papa
60. Secret Love
61. Tuxedo Junction
62. Dance, My Heart
63. Skokiaan
64. Heat Wave
65. Something's Gotta Give
66. Learnin' the Blues
67. Pete Kelly's Blues
68. Flip Flop
69. Rockin' Through Dixie
70. Calypso Dance
71. The Incredible Shrinking Man
72. The Lonely Trumpet
73. Peter Gunn
74. Walkin' to Mother's
75. 707
76. Stockholm Blues
77. Tres Chic
78. The Gurney Slade Theme
79. Champs Élysées
80. Tequila with a Twist
81. Worried Mind
82. Let Me Entertain You
More Info:
Ray Anthony is a trumpeter, bandleader, composer and film star who led one of the most respected and successful big bands of the 1950s. Starting his career as a member of the Glenn Miller Orchestra in the early 1940s, he launched his own band after serving in the US Navy in WWII, and had his first hit with "A Dreamer's Holiday" in 1949, racking up a string of over 25 chart entries through into the 1960s. This great-value 82-Track 3-CD set comprises selected A & B sides from his one hundred or so singles on the Capitol label during this era, and features 26 US Billboard and Cash Box chart entries plus his UK hits, including the No. 2 successes "At Last" and "Dragnet", and his other Top 10 hits "Sentimental Me, "Count Every Star", "Can Anyone Explain", "Harbor Lights", "Nevertheless, As Time Goes By", and "Peter Gunn". It includes hit performances by his featured vocalists Dick Noel, Ronnie Deauville, The Skyliners, Tommy Mercer, Gloria Craig, Marcie Miller and Jo Ann Greer, as well as many notable jazz-flavoured instrumentals which provide a fine vehicle for Ray Anthony's substantial talent as a trumpeter. It's an entertaining showcase for one of the best and most innovative contemporary big bands of these years.