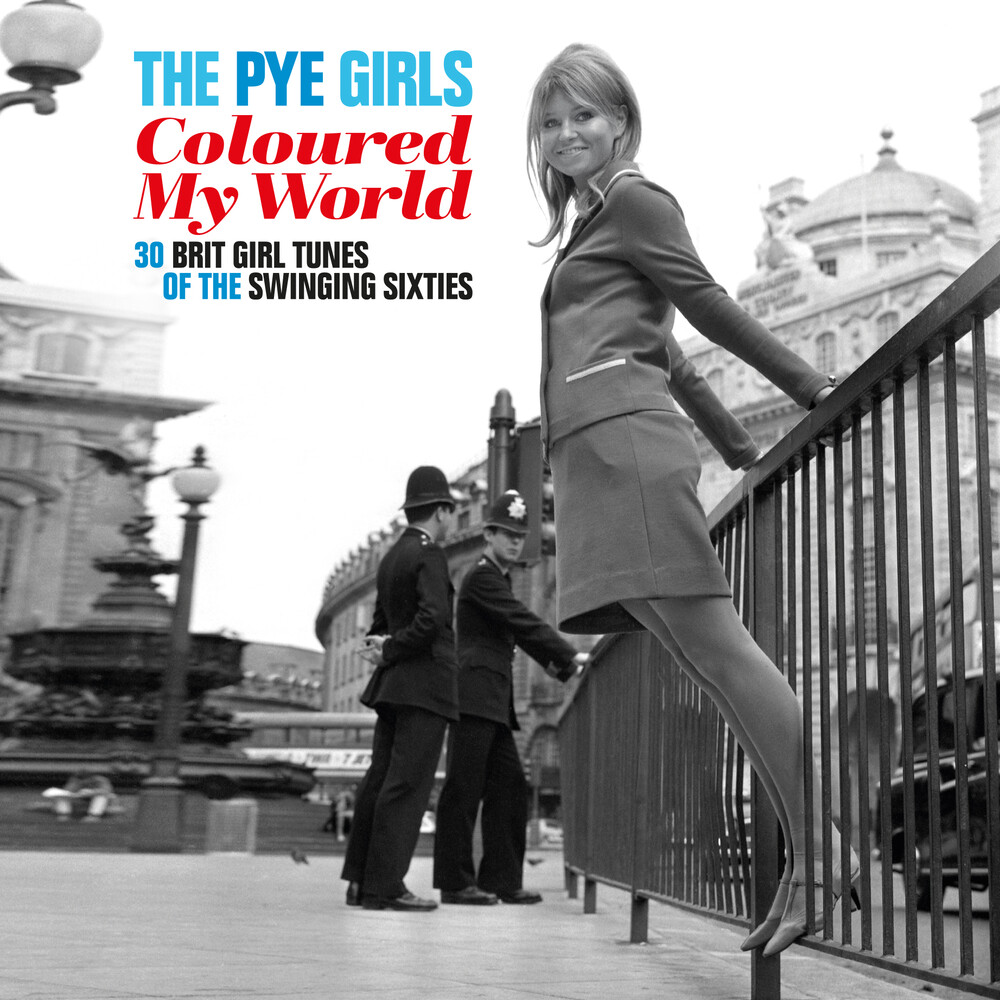 Details

Format: CD
Label: MOCD
Rel. Date: 12/04/2020
UPC:

8718627232767
Available Formats and Editions
1. Petula Clark - Gotta Tell The World
2. Sandra Barry - Stop! Thief
3. Val Mckenna - Now That You Have Made Up Your Mind
4. The Baker Twins - Words Written On Water
5. The Ferris Wheel - B.A.B.Y.
6. Mally Page - You Can Be Wrong About Boys
7. Tawny Reed - My Heart Cries
8. Billie Davis - No Other Baby
9. Nita Rossi - Something To Give
10. Helen Shapiro - Silly Boy (I Love You)
11. The Caravelles - The Other Side Of Love
12. Sharon Tandy - Now That You've Gone
13. Jackie Trent - You Baby
14. Jan Panter - Put Yourself In My Place
15. Val Mckenna - Don't Hesitate
16. Peanut - Thank Goodness For The Rain
17. The Breakaways - That's How It Goes
18. The Paper Dolls - Something Here In My Heart (Keeps A-Tellin' Me No)
19. Antoinette - There He Goes (The Boy I Love)
20. Val Mckenna - Baby Do It
21. Tawny Reed - Needle In A Haystack
22. Barbara Ruskin - Song Without End
23. Glenda Collins - Something I've Got To Tell You
24. Two Of Each - Colour My World
25. Petula Clark - The Life And Soul Of The Party
26. Simone Jackson - Tell Me What To Do
27. Judy Cannon - The Very First Day I Met You
28. Glo Macari - He Knows I Love Him Too Much
29. Shirley Abicair - I Will Be There
30. Tammy St. John - Dark Shadows And Empty Hallways
More Info:
The 1960's was the decade when young people finally threw off the restrictions of previous generations and made a new 'pop' culture, just for themselves. From the black and white world of the Fifties, suddenly the Sixties exploded into glorious Technicolor. When USA's Time magazine dedicated it's 15 April 1966 issue to London: The Swinging City, it was recognizing that in the midst of a worldwide cultural revolution it was Britain, and London especially, that laid claim to being the centre of all things modern. British artists, writers, photographers, film makers and, most significantly, it's musicians, were bursting with creativity. Of course, groups like The Beatles, Rolling Stones, Kinks and Small Faces were at the forefront of this burgeoning British scene, but alongside them was a hugely significant growth in confidence, style, and sound of Britain's female artists. Together the four girls - Sandie Shaw, Lulu, Dusty Springfield, and Cilla Black - scored nearly 60 top 40 UK hits between 1960 and the end of the decade, including half a dozen number ones. But for every Lulu, Sandie and Dusty there was a Tammy St. John, an Antoinette, or a Barbara Ruskin. These were the Brit girls who set the new scene, creating a distinctively British girl pop style of their very own. An eclectic mix of kinky booted beat girls, coiffured chanteuses, doe eyed sirens with heavy fringes and mini-skirted modsters who together ruled Carnaby Street, Kings Road and The Cavern. This first generation of British Girl power offered a host of sounds: dreamy girl pop mixed it with thumping Soul floor fillers, Merseybeat inspired beat numbers sat side by side with teen pop exuberance and moody torch songs - each delivered in a way that reflected the confident mood of the era. Originally a British manufacturer of Televisions and Radios, Pye Records was formed in 1959 with a vision to release pop music by British artists. Pye was the last of the major record companies to releases a 45rpm single, but once it finally embraced the format in 1960 both Pye and it's little sister, Piccadilly Records, gave these British girls their voice and spawned a host of fantastic femme-pop 45's that provided the soundtrack to the colorful, confident and downright fun place that was Swinging Sixties Britain, and it is in these companies catalogues that we find our inspiration for this compilation of some of the finest British Female Pop ever recorded.