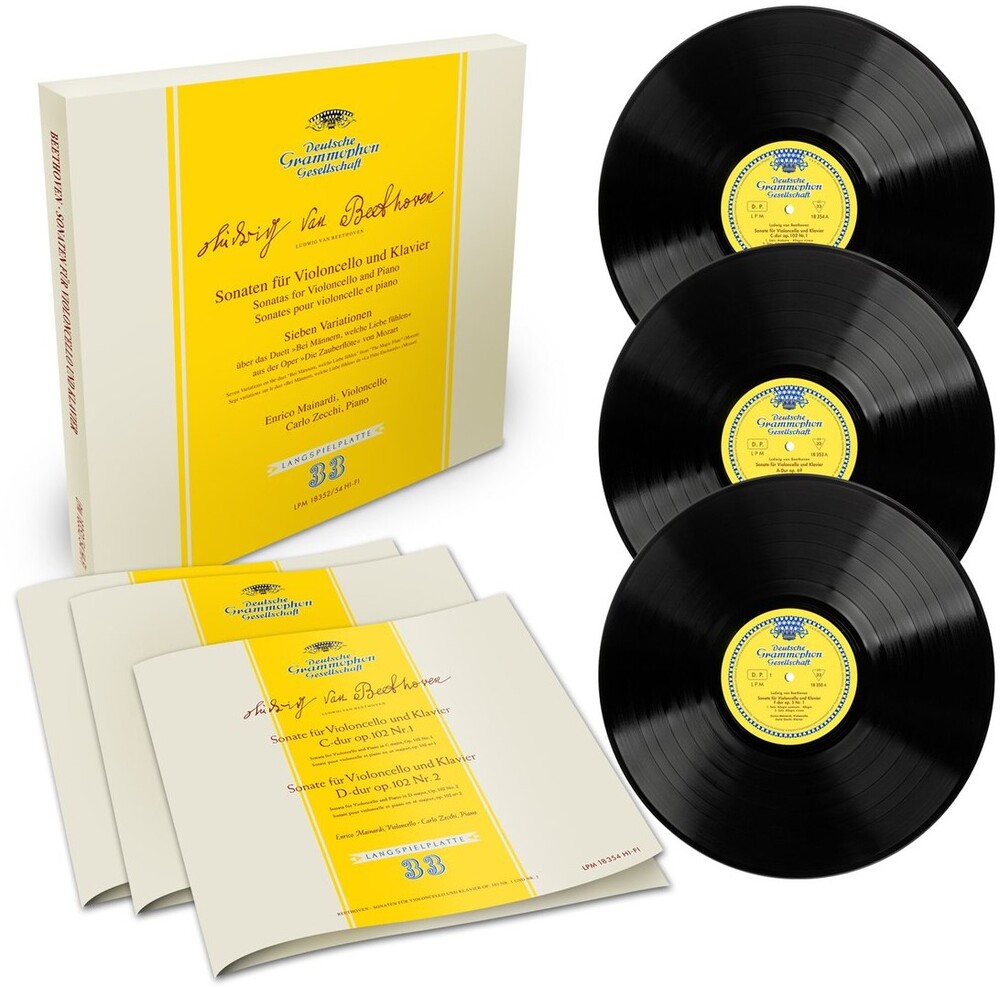 Details

Format: Vinyl
Label: ANALOGPHONIC
Rel. Date: 08/07/2020
UPC:

8808678161533
Sonatas For Violoncello & Piano (Beethoven) (Ogv)
Artist:
Enrico Mainardi
Format:
Vinyl
New:
call store to check stock 610-683-5599
Wish
Available Formats and Editions
1. Sonate Fur Violoncello Und Klavier F-Dur Op. 5 NR. 1
2. Adagio Sostenuto
3. Allegro
4. Allegro Vivace
5. Sonate Fur Violoncello Und Klavier G-Moll Op. 5 NR. 2
6. Adagio Sostenuto Ed Espressivo
7. Allegro Mollo Piu Tosto Presto
8. Rondo: Allegro
9. Sonate Fur Violoncello Und Klavier A-Dur Op. 69 1
10. Allegro, Ma Non Tanto 1
11. Scherzo: Allegro Molto 1
12. Adagio Cantabile - Allegro Vivace 1
13. Sieben Variationen Uber Das Duett »Bei Mannern, Welche Liebe Fuhlen« Aus Der Oper »Die Zauberflote« Von Mozart 1
14. Sonate Fur Violoncello Und Klavier C-Dur Op. 102 NR. 1 1
15. Andante - Allegro Vivace 1
16. Adagio - Tempo D'andante - Allegro Vivace 1
17. Sonate Fur Violoncello Und Klavier D-Dur Op. 102 NR. 2 1
18. Allegro Con Brio 1
19. Adagio Con Molto Sentimento D'affetto 2
20. Allegro Fugato 2
21. Recorded October 17-20, 1955 (LP 1), May 27-30, 2956 (LP 2), January 6-10, 1957 (LP 3) at Beethovensaal, Hanover, Germany
More Info:
180g Audiophile Virgin Vinyl 3LP Box Set!Mastered From Original Analogue Masters Of Universal Music!Audiophile Analog Mastering By Rainer Maillard at Emil Berliner Studios! Pressed at Pallas!The complete Beethoven Cello Sonatas, recorded between 1955 and 1957 with Carlo Zecchi, adopts a much more universal approach than the Bach Suites. A noble statue of Beethoven is sculpted by the careful bowing of the cel-list. The technique is sharply executed, but the image created is restrained and serene. A Beethoven with such profound magnanimity and true humanity is not often heard today. Although a monaural recording, as with the Bach, the session recorded at Beethovensaal in Hanover benefits from the good mike setting, which vividly cap-tures the air movements of the recording venue and even the friction at the moment of bowing. It is a valuable record of the cellist who has reached his full maturity in his late 50s.